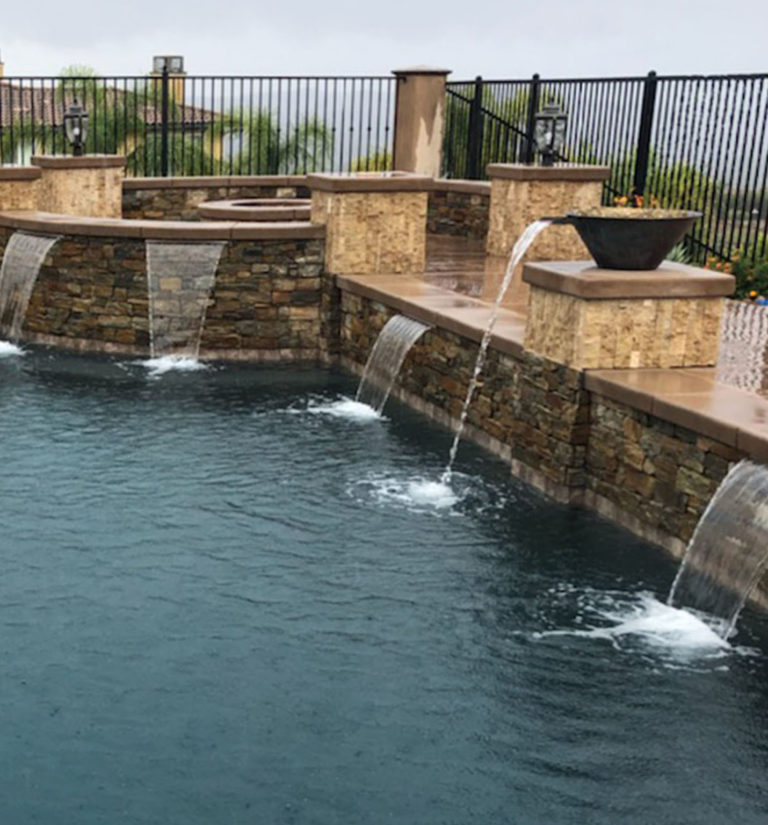 A raised bond beam, or RBB, is a wall on your pool that extends above the surface of the water. It usually ranges from 6 inches to 3 feet in height. Not only does it add depth and dimension to your pool and yard, but it also supports the pools integrity with reinforced rebar. Read on to learn more about the benefits of RBB.
Yard Surfaces
While a RBB can be built on level land, one of the great benefits of RBB is that it allows pools to be built in areas of a property that would otherwise be unworkable, such as on a slope. The RBB serves as a kind of retaining wall to keep back the soil. This allows the pool to be built into a slope that results in one part of the deck being a different height than other areas which separates the pool itself into two or more levels.
Beauty
The RBB raised wall can be covered with stone or quartz or tiles that really will give your yard beauty and depth. It can also accommodate a waterfall or light fixtures and can even allow your spa to be elevated so that the warm water flows down to your pool. The options of incorporating an RBB are only limited by the imagination of the owner and the pool designer.
Professional Company
Raised bond beams are not only functional and allow for more options with a yard that has a slope, but add to the pool's luxurious look. The creativity and beauty is endless when including a raised bond beam in your pool. To learn more about RBB, contact Infinite Pools online or call 951-354-9888. We have the experience and knowledge to help you create and build the pool and yard of your dreams. Infinite Pools practices a hands-on approach to every job and is fully involved at all stages of your project to ensure it is completed to our exceptionally high standards.