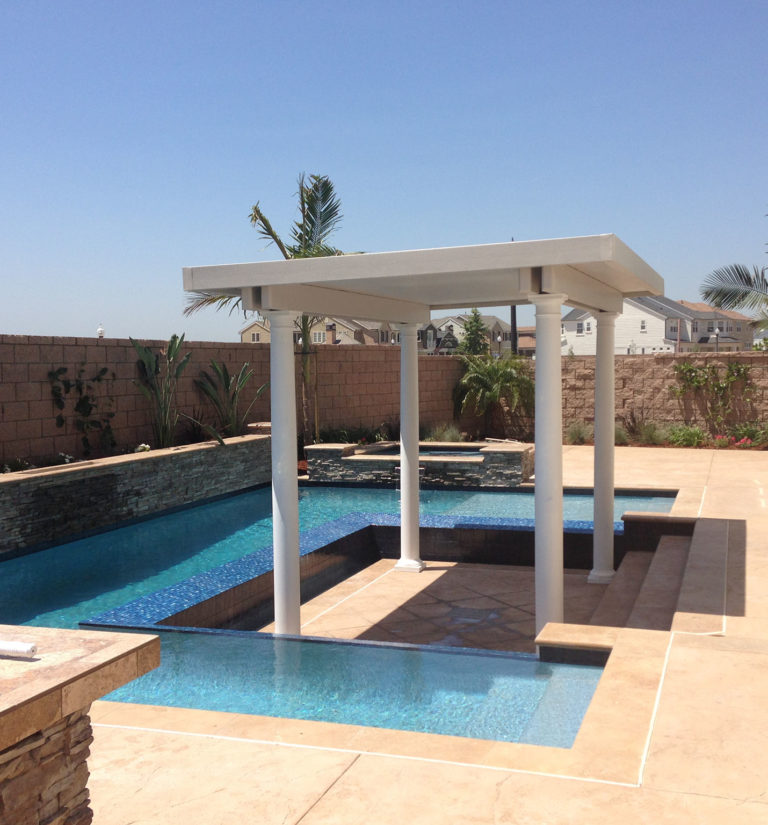 It is so important to have shade around your pool. This is because it allows you to enjoy being outside in a cooler environment and blasting sunlight for much of the day is not always the best idea. Not only does this increase the risk of sunburn for the bathers, but it causes the pool water to evaporate more quickly than it should. Here are some tips to create shade around a swimming pool.
Umbrellas 
Outdoor umbrellas are not simply for putting over poolside dining areas. A large umbrella can be placed over the pool to protect it from the hottest and brightest part of the day. The owner can place umbrellas where they're needed. One can be at one end of the pool, and another can shade the other end.
Gazebo
Gazebos are freestanding structures that are sometimes octagonal that not only add beauty, but they are a great permanent way to get shade in your yard. They can be placed next to your pool so that part of the pool is shaded and especially when you get out of the pool so you can enjoy your yard without having the hot sun beating down on your skin at all times.
Awnings 
A retractable awning (also sometimes referred to as an overhang) is a secondary covering that is attached to the side of the house or pool house. It can be made from a variety of materials, including canvas, cotton, polyester yarn, or vinyl.
Sails 
Another way to add shade to the pool is through the use of sails. Similar to a boat, you can have sails in your yard. However, these sails don't make your pool move forward! Sails are dramatic, beautiful and can be angled in just the right way to allow the right amount of sun to fall on the water. They also block ultraviolet rays and do not get hot themselves. Sails come in an array of colors and can be opaque or nearly transparent.
Pergolas 
A pergola with adjustable shades or adjustable louvers may be just the thing to place over the entire length of a lap pool. The pergola does not have to be restricted to a small pool, however. One of these structures can be built over an area of a large pool. A pergola is aesthetically pleasing and can be covered with flowers, vines or other plants.
Professional Company
If you have a pool, some type of shield to shade your yard is a must. They also add beauty and dimension to your yard. To learn more, contact Infinite Pools online or call 951-354-9888. We have the experience and knowledge to help you create and build the pool and yard of your dreams. Infinite Pools practices a hands-on approach to every job and is fully involved at all stages of your project to ensure it is completed to our exceptionally high standards.